Glock G41 Gen4 45 ACP 5.31"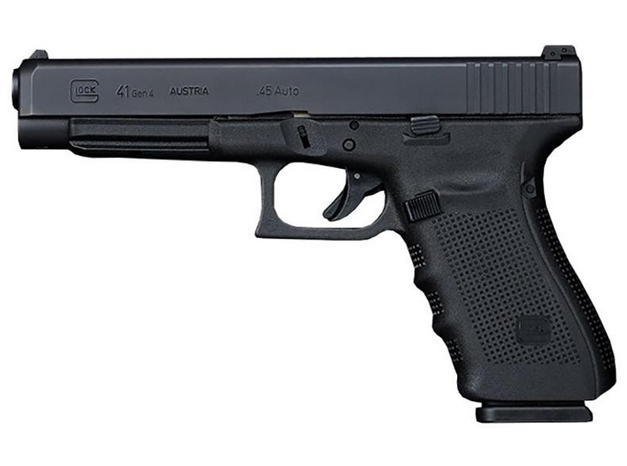 | | |
| --- | --- |
| Available | At Warehouse |
| MSRP | $67900 |
| Restricted | |
Glock G41 Gen4 45 ACP 5.31" 10+1 FS Modular Poly Grip Black
The G41 Gen4 is a practical-tactical .45 caliber pistol designed to maximize sight radius while improving weight distribution and balance. It is built with a G34 slide width on a G21 Gen4 frame and is 1.5 ounces lighter than the G21 Gen4. The longer barrel and slide on the G41 Gen4 help to reduce muzzle flip and felt recoil, while the longer sight radius makes it more accurate for competition or duty use. The G41 Gen4 comes with all the standard features of the Glock Generation 4 pistol group, including the modular backstrap design, Gen4 rough textured frame surface and dual recoil spring assembly.
Item Info
| | |
| --- | --- |
| Item | 41557-14 |
| UPC | 764503910722 |
| Brand | Glock |
| Model | G41 G4 |
| Mfg No | PG4130101 |
| Caliber | .45 ACP |
Tech Specs
| | |
| --- | --- |
| Type | Pistol |
| Action | Double |
| Barrel Length | 5.31" |
| Capacity | 10+1 |
| Safety | No Manual |
| Grips | Modular Synthetic |
| Sights | Fixed |
| Weight | 27 oz |
| Frame Finish | Black |
| Frame Material | Polymer |
| Barrel Type | Octagonal |
| Slide Description | Black |
| Barrel Finish | Treated |
| Barrel Length Range | 5.00" to 5.99" |
| Weight Range | 16.00 oz to 31.99 oz |
| Purpose | Personal Protection/Sport |
| Series | Generation 4 |
| Size | Longslide |
| Finish Color | Matte |
| Accessories | 3 Mags |
| Description | Prac/tac |
| Casing Material | Fired Case |
| Finish | Black Matte |
| Stock | Black Polymer |
| Overall Length | 8.90 |
| Features | Magazine Loader/ Cleaning Rod and Brush |